Idaho Mule Deer Hunts on Private Ranch
Archery Mule Deer Hunt – 5 Days
$2950
Rifle Mule Deer Hunt – 5 Days
$3950
Idaho is a very underestimated destination for trophy mule deer hunting and in our opinion it can stay that way.
While hunters apply for a span of years in other states (for the once in a decade or lifetime hunt),  here in Idaho we are able to apply annually,  which is a rare opportunity.  Our fully outfitted and guided mule deer hunts are based out of the North Star Lodge so all the comforts of home will be at your disposal. 
You'll be hunting completely private ground specifically managed for mature bucks with food plots designed to attract and hold deer. You can expect to have opportunities at bucks from 150 to 170 inches and, every year, there are one or two bucks that are a level above and will push the magical 190 inch mark.
Our archery mule deer season begins the 30th of August and concludes September 30th. These are over-the-counter tags, meaning there is no need to waste years accumulating preference points or putting for a draw that you may never win.
I recommend a bow with at least a 55 pound draw and arrow tipped with a 125 grain fixed blade broad head. You'll do most of your hunting on the ranch from stands, but there may be instances where the spot and stalk method is necessary.
The weather is usually fantastic for mule deer in September so no need to bring bulky warm clothes. Most days you will be able to hunt in uninsulated pants and just a light long sleeve shirt.
Archery mule deer hunting has one thing in common with all other archery hunts and that is the further you can shoot the better. Practice until you get comfortably out to 40 yards and your chances of success will go through the roof. You are not going to have a problem seeing big muley bucks here in Idaho, but you owe it to yourself to be able to stretch that shot out just a bit.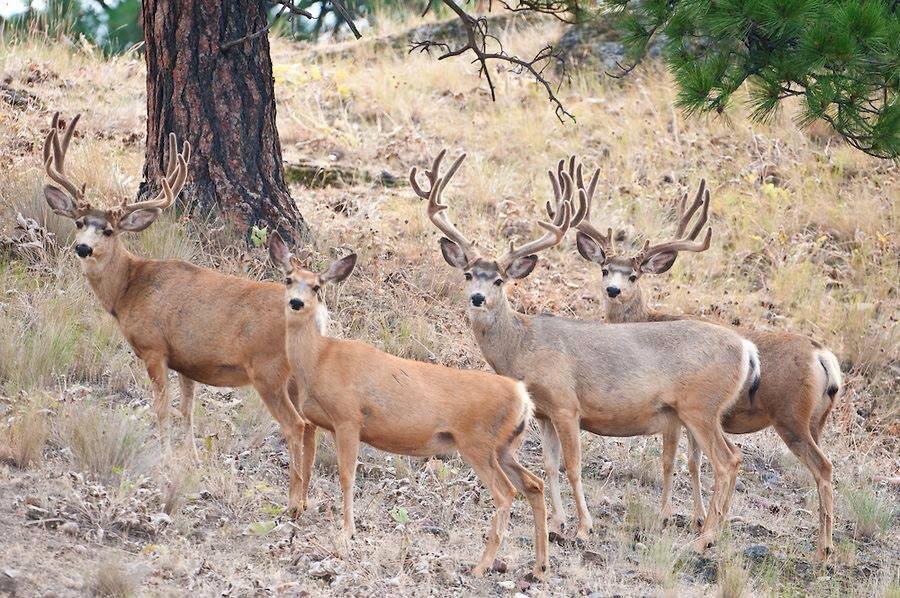 If you just plain don't like to archery hunts, we offer rifle mule deer hunts on our private ranch as well. These tags are on a draw basis with the drawing being in June every year. Just like the archery hunt, you can expect to see 150-170 inch bucks with the chance of bumping into one of those bigger bruisers that hang around every year. The biggest difference with this hunt is that it will be mostly spot and stalk. 
Our mule deer rut takes place basically the last 10 days of October and into November. Stalking trophy bucks as they tend to their herd of does is the most effective method. Again, give yourself that extra advantage and practice out to 300 yards with your rifle to give yourself that extra advantage.
Another great advantage on the mule deer rut hunt is the ability to glass long distances. Of course your guide with be adept at this, but it can only help your chances is you can glass right along with him and pick bucks out at long distances. Remember, these tags are on a draw as apposed to over the counter basis. So have your information ready and to us by the 1st of June so we can enter you for the draw.
Private Ranch Mule Deer Gear List
You won't be staying out in the cold at night so your gear list won't be as bloated as a mountain hunt, but still there are some necessities:
Quality leather boots with aggressive tread
Binoculars
Backpack
Knife
Insulated and waterproof outfit for the November hunt
Hat and gloves
Personal Meds
Camera
Flashlight